Rocketman Triathlon 2019
Rocketman Triathlon
August 25, 2019
Please review important race changes for 2019
Swim: 1500 meters
Bike: 25 miles
Run: 10 kilometers
Ditto Landing Huntsville, AL

---
Rocketman is North Alabama's Premier Olympic Distance Race. It is put on by Team Rocket Tri Club and benefits Village of Promise and other worthy charities. Village of Promise is a local 501(c)3 in Huntsville, AL who provides services to low-income families with the goal of breaking the cycle of poverty, one family at a time, using a two generational approach.
Rocketman 2019 will be a traditional Olympic distance of 1500 meter swim (1640 yards), 40 km bike (25 miles), 10 km run (6.1 miles). Triathletes will start and finish at ditto landing directly adjacent to the transition area. The race will feature a return to competitive wave starts, seeded by age group / category.
In addition to the triathlon, Rocketman has an Aquabike (Swim/Bike) and Cyclorun (Bike/Run) Category.
Aquabike athletes will be wave started together along with the full distance racers. 1.5 km swim, then 40 km bike. Cyclorun athletes will be a time trial start begun after all of swimmers have been put into water.
The event takes place at 7:00 am on Sunday, August 25, 2019, at Ditto Landing, Huntsville Alabama.
All online entries must be received by August 23, 2019.
SCHEDULE OF EVENTS
Saturday, August 24, 2019 (Fleet Feet Huntsville)
Address: Fleet Feet Huntsville is located at 2722 Carl T Jones Dr SE B2, Huntsville, AL 35802
10:00 – 5:00 PM Packet Pickup
RACE DAY
Sunday, August 25, 2019 (Ditto Landing)
Address: 293 Ditto Landing Rd SE, Huntsville, AL 35803
5:00 – 6:30 Packet Pickup just north of Transition Area
5:30 Transition Opens (All Athletes must be: Body Marked, Stickers on front of helmet and left side of bicycle to ENTER and EXIT)
6:20 – 6:45 Swim Warm-up from Swim Exit
6:45 Transition Area Closes. All Swimmers out of water
6:50 Final Instructions
7:00 Race Start
11:00 Awards Ceremony


Cancellation and Refund Policy:
Rocketman has a pretty awesome refund policy. Up to 30 days prior to the event, we allow racers to cancel their registration and receive 85% of the registration fee which can be applied to any and all Team Rocket events one year from Aug 25, 2019. Once we're within 30 days of the race event, we're sorry, but no refunds will be issued. We will allow athletes to convert from the full triathlon to either the aqua bike or cycle run.


Cut-Off Times:
Expect to have cut off times enforced.
ALL participants must complete the event in under 5 hours. The swim must be completed in no more than 1 hour from the start of the final wave. The bike must be completed in no more than 3 hours from the start of the final wave. And runners must be at the run turnaround within 4 hours of the final wave start. Event officials reserve the right to pull a participant off the course if it appears as though that participant will not be able to meet the above time requirements.
Collegiate: Must be a Full Time Student
Military: 

 Currently serving Uniformed Personnel (Active, Guard, Reserve). Does not apply to Military Retirees, spouses or children of Active or Retired Military Personnel.
Lodging
Other hotels can be found here http://www.huntsville.org/visitors/stay/
Camping is available at Ditto Landing. Visit their website here: http://www.dittolanding.com/DIT.land_fun.htm
Awards
1st, 2nd, 3rd Overall (Male and Female)
1st Masters, Age 40+ (Male and Female)
1st Grand Masters, Age 50+ (Male and Female)
1st, 2nd, 3rd Clydesdale and Athena
1st, 2nd, 3rd Military (Male and Female)
1st, 2nd, 3rd Collegiate (Male and Female)
1st, 2nd, 3rd 5-year age groups, starting with the 15 to 19 age group ending with 85+ year old.
1st, 2nd, 3rd Relay Teams (Male, Female, Mixed, and Mixed Masters). For Mixed Masters, all team members must be Age 40 or over.
1st, 2nd, 3rd Aquabike (Male and Female)
1st, 2nd, 3rd Cyclorun (Male and Female)
Course Description
Swim: 1500 meters (~1640 yards)
The race features a new swim course for this year, reverting to a traditional 1500 meter swim in the Tenn River. Swim start will be adjacent to transition. All swimmers will be started in waves and swim clockwise around the buoys. Your starting place will be determined by the estimated finish time you provide when you register in imAthlete.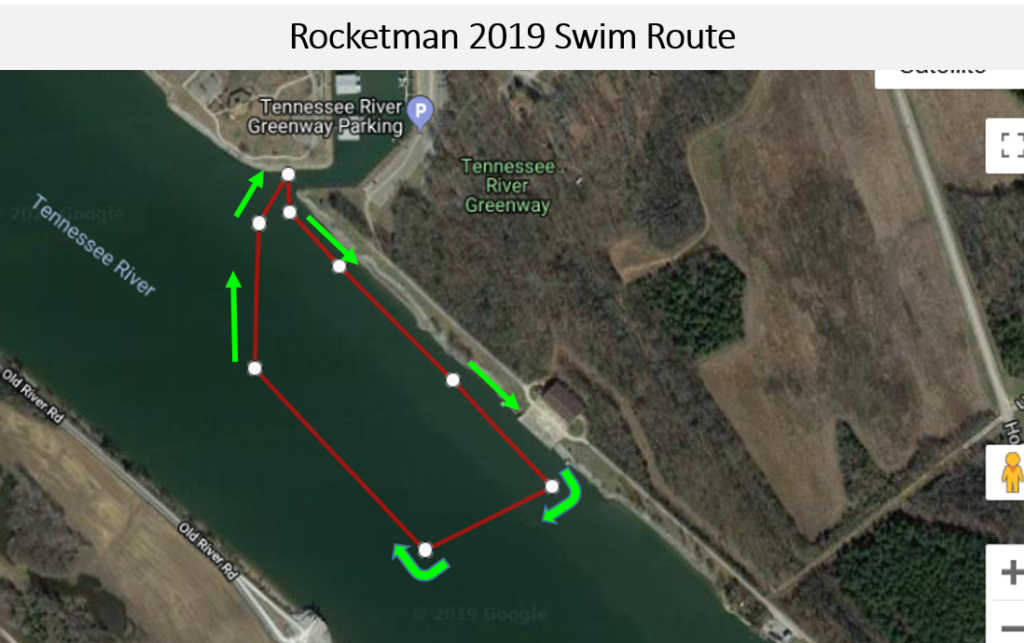 BIKE: 40.9 km (25.4 miles)
The bike course is an out and back (with a short lollipop on the far end) along country roads with lots of police support to control/limit traffic and ensure racer safety. The course is similar to previous year's route except that we have figured out a way to eliminate the hard U-turn that was previously on old 431. All turns will be controlled by volunteers while major turns while be controlled by sheriff deputies / Huntsville Police.
There will be NO aid stations on the Rocketman bike course. However, our bicycle sponsor (Bicycle Cove) will be on the course providing SAG support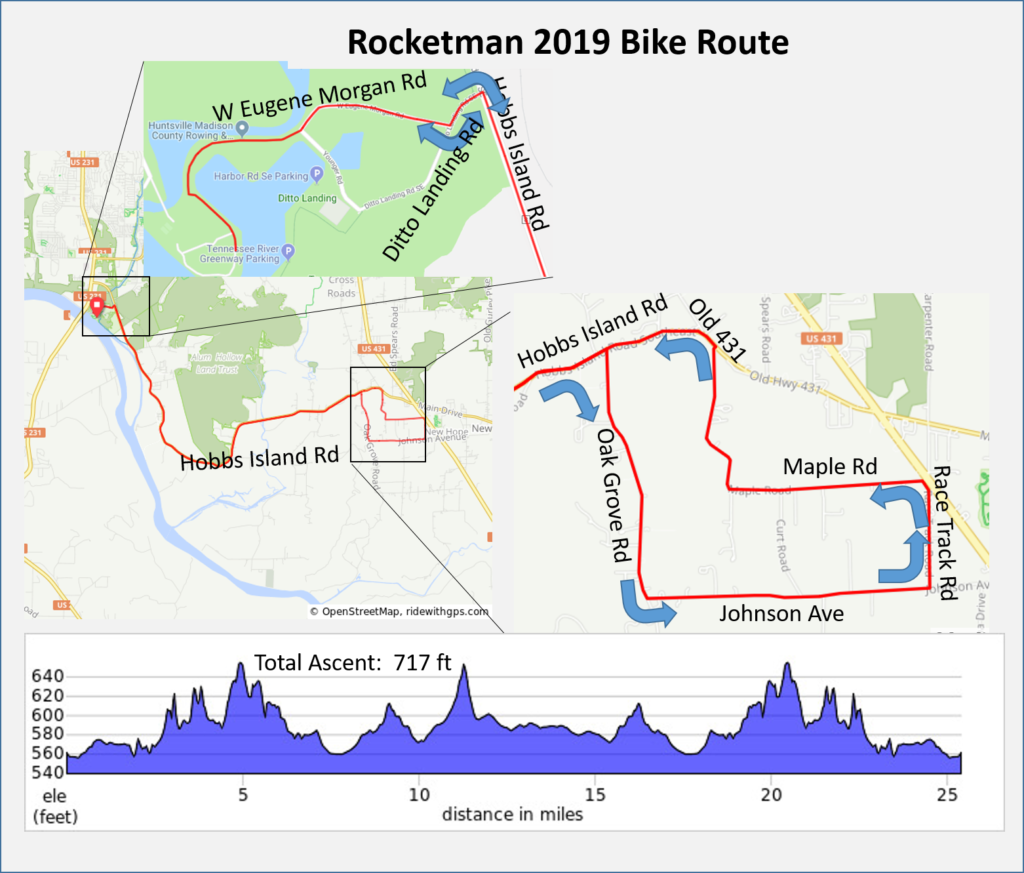 RUN: 10 kilometers (6.21 miles)
The Run Course is an out-and-back along a paved, partially shaded urban greenway, free from traffic hazards with 6 aid stations with water/Powerade provided by our awesome run course sponsor (Fleet Feet of Huntsville). We will have cold washclothes available at all aid stations (while supplies last). Aid stations will be at the following locations:
Mile 0.9, Mile 2.4, Mile 3.0, Mile 3.4, Mile 4.0, Mile 5.2
Note: Slight difference in the "run out" from last year. Participants will run up the sidewalk on the southern side of transition, follow sidewalk to the pavilion, head offroad around the tennis courts, then make a right turn to rejoin the previous year's course.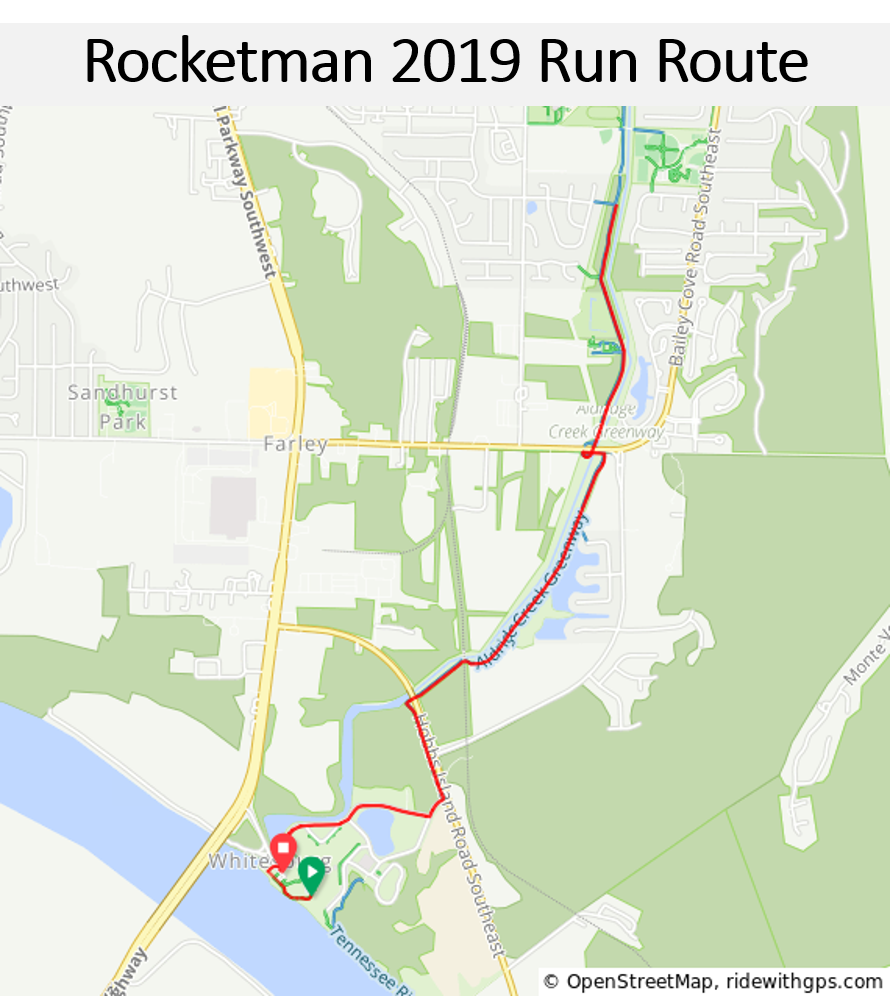 Transition Area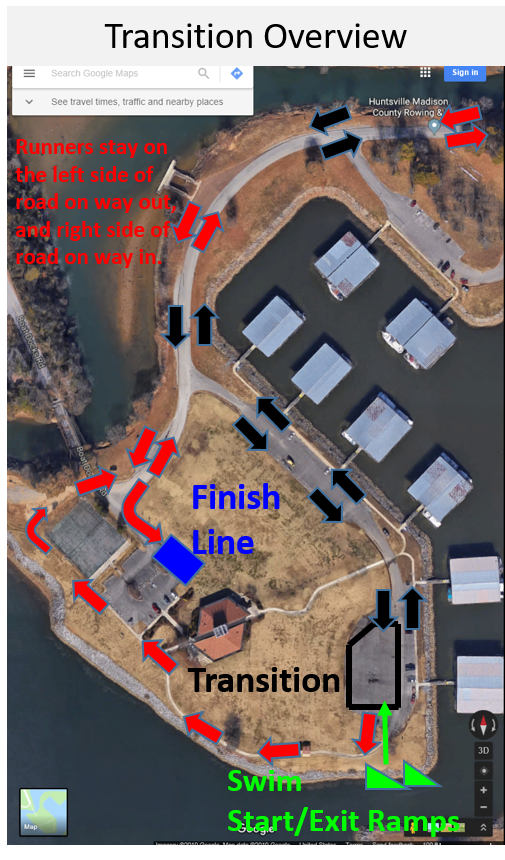 Spectator Tips
There is only one road leading into Ditto Landing. Spectators, family and friends, are HIGHLY encouraged to arrive with your athlete you're supporting as entrance to Ditto Landing will close once the race begins. Bring your own lawn chairs and enjoy the festivities.
Discounts for Tri Club members
If you are a member of your local Tri Club, see your club officer for discount codes.
Sponsors:
We'd like to thank our generous sponsors:
Fleet Feet Sports of Huntsville: Who work so hard to set up aid stations for so many races and the enormous financial support they provide the community and Rocketman in particular.
Bicycle Cove / Bicycle Etc: They have three shops. Hampton Cove, Downtown Huntsville, and Madison. Our bike sponsor will be out on the morning of the event near transition helping anybody with last minute bike issues. And they'll be out on the course providing sag support.
Domino's Pizza of Madison County: Can't thank Domino's enough as they have been generously supporting a huge number of local events with pizza donations.
We Run Huntsville / John Butterfield Financial Advisor with Edward Jones: They will be out on the course taking photographs of racers, provided at zero cost to you.
Nesin Therapy: Generous financial support AND post-race massages and physical therapy.
Family Cove Medicine: Generous financial support allowing us to give more of our race revenue to our charity.
United States Coast Guard Auxiliary: The coast guard helps protect our swimmers from commercial and recreational boat traffic.
Huntsville/Madison County Rescue Squad: A huge supporter of Team Rocket events, they provide emergency rescue services in case of any swimming mishap or medical issue.
HEMSI: HEMSI donates medical support to our race in case of medical emergency.
Ditto Landing and the City of Huntsville: Without a venue, we would not be able to conduct this race. Both Ditto and our great city do a great job facilitating these sorts of events.
Contact
Eric and Kayla Broyles
Rocketman Triathlon Race Directors