Huntsville Sprint Triathlon
Huntsville Sprint Tri was a huge success in 2017 (
results here
) and we look forward to another successful race in 2018. Additional information for the August 11, 2018 event will be posted to this page as soon as it becomes available.
We are pleased to announce the 2017 Huntsville Sprint Triathlon charities are Ainsley's Angels, the Special Olympics of Madison County Cycling Team, Huntsville High School Cross Country and YMCA Camp Cha La Kee. Stay tuned for the 2018 charity!

Welcome to the 38th Huntsville Sprint Triathlon!
Presented by Edward Jones
Charity:  YMCA Camp Cha La Kee!
Saturday, August 11, 2018
400m swim / 7mi bike / 3.1mi run
Transition opens 6:00am / Race starts 7:30am
Huntsville Aquatic Center
2213 Drake Avenue Southwest
Huntsville, AL
QUICK LINKS: Registration | Results/Photos | Course | Directions
The Huntsville Sprint Triathlon, presented by Edward Jones and James Falcon.
Come out and participate in a 38 year old Huntsville sporting event tradition and thank Edward Jones for being our Title Sponsor.
Registration
Online registration on ImAthlete only. Registration begins March 1st and ends on August 1, 2017, or when participant limit is reached.
Please register early to ensure your spot at the starting line. We will not accept paper registrations and there will be no race-day registration.
Pricing information can be found at ImAthlete's website.
Packet Pickup
Thursday, August 9, 2:00pm-6:00pm, Bicycle Cove
Friday, August 10, 10:00am-7:00pm, Fleet Feet Sports
Saturday, August 11, 6:00-7:00am,  Brahan Springs Natatorium
Training Resources
Be sure to watch this great introduction video made by KatieBeth Pierson to give you a sneak peak on what to expect on race day!
Don't forget to read these training tips to help you prepare for the Huntsville Sprint Triathlon.
Course Description
START: SWIM
The start of the swim will be "criterion" single file entry into the water and requires swimming 8x50m lengths of the pool for a total of 400m.  At the end of each 50m length, you must come in contact with the wall, then swim under the rope to switch lanes and continue swimming. Flip turns are acceptable.  After completing the swim course, exit the pool and proceed to the Transition area.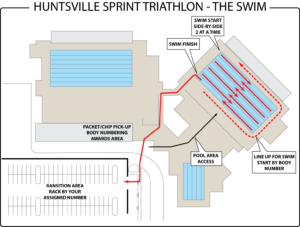 TRANSITION TO BIKE
All athletes enter the Transition area thru the "SWIM IN" gate. Team members should proceed to the team area where your Team bicycle is racked and tag up with your waiting bike team mate. Single athletes will run to your rack location and transition to your bike. Change into your cycling gear and WALK your bicycle to the "BIKE OUT" exit gate. NO RIDING PERMITTED. Take note of your location in the transition area, you don't want to be searching for your rack location when you return. The Transition area is only open to entrants and team members.
BIKE
Triathletes will exit the Aquatic Center on Ivy
Turn right onto Drake
Turn right onto Leeman Ferry
Turn right onto Johnson
Turn left onto Baywood
Turn right onto Andros
Turn left onto Triana
Ride south, turn around at cones, ride north on Triana
Turn right onto Drake
Turn right onto Ivy into the Aquatic Center
TRANSITION TO RUN
DISMOUNT from your bike and re-enter the Transition area thru the "BIKE IN" gate. NO RIDING IN TRANSITION. Team members should proceed to the team area where you will rack your bicycle and tag up with your waiting RUN team mate. Single athletes proceed to your rack location and prepare for the run. Change into your running gear. Be observant of bicycle traffic in the Transition area, the Transition area will be very busy during this time. Race volunteers will direct you as you exit thru the RUN OUT gate. The Transition area is only open to entrants and team members.
RUN – 2 LOOPS!
*RUN COURSE subject to change due to construction at the Huntsville Aquatic Center.
Proceed onto the run course and pay close attention to course markings and volunteers.  The course is rolling with a challenging cross country and pathway type of elevation gain and loss. Again, safety is the most critical element of the run. Always be aware of moving traffic.  Pay close attention to traffic control officers and volunteers on the course. The running surface is uneven in places and it is good practice to focus on your footing.  There will be one water station on the course and another at the finish area. The race concludes with the completion of the run and all timing will be recorded at the "FINISH" line.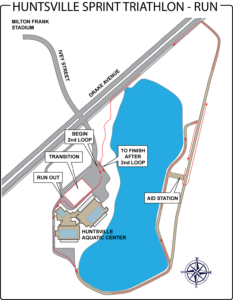 POST RACE
After finishing the race, grab water or gatorade to rehydrate and head to the pavilion to pick up your finisher's tech shirt. Congratulations! You earned it. Post race food and drinks will be provided under the tent next to the pavilion. Awards will be presented as soon as possible after the last finisher has crossed the finish line. Awards will also be available for pickup at Fleet Feet Sports beginning on Monday after the race. Remember to thank the race sponsors and volunteers. We can't have this race without their generous support.
Schedule of Events
Transition opens at 6:00am and the race starts at 7:30am in the pool.
Awards are immediately after the last finisher.
Directions
Huntsville Aquatic Center
Huntsville, AL 91381
Lodging
Embassy Suites, Huntsville, AL
Awards
1st, 2nd, 3rd Overall (male and female)
1st, 2nd, 3rd Masters, Age 40+ (male and female)
1st, 2nd, 3rd Clydesdale, 225lbs +
1st, 2nd, 3rd Athena, 165lbs +
1st, 2nd, 3rd Youth Team, 16 or younger
1st, 2nd, 3rd Adult Team, 17 or older
1st, 2nd, 3rd 10 & Under, then 5-year age groups, starting with the 11-14 age group ending with 85+ year olds
Sponsors
Presented by Edward Jones, James Falcon
Team Rocket Tri Club
Bicycle Cove
Fleet Feet Sports
Domino's Pizza
We Run Huntsville
Huntsville Police Department
Race Director
Suzanne Erickson
Huntsville Sprint Triathlon Race Director
Contact Race Director
Past Results and Race Photos
2016 Race Results | Photos
2015 Race Results | Photos
2014 Race Results | Photos
2013 Race Results | Photos
2012 Race Results | Photos