ROCKETMAN Update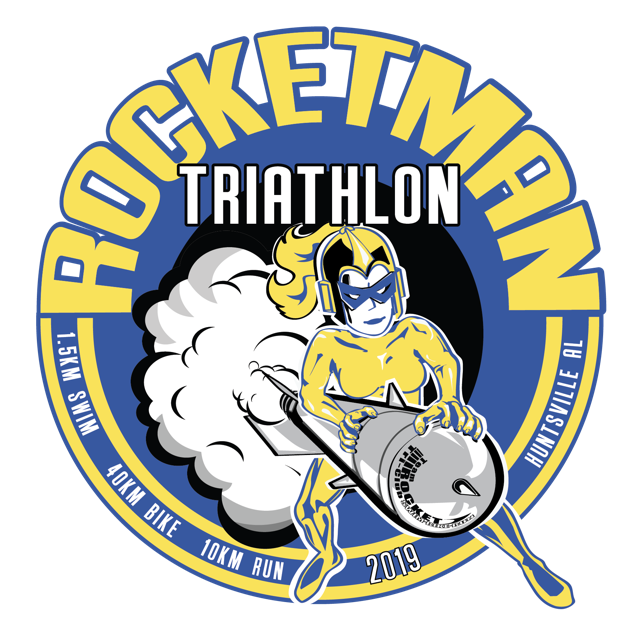 From new race directors (Kayla and Eric Broyles)
We've been busy since Team Rocket Tri Club elected us to be race directors.
1) New logos were commissioned and designed by Amy Turner. Super hero "Rocketman" holding onto rocket. And we have a female version which will go on our female shirts and female awards.
2) Course is being tweaked from last year. What changes you ask???
a) Swim will be a 1500 meter olympic swim. It will start and end near last years transition area. (course map can be found in the comments)
b) Swim will be a self seeded wave start. You will be asked to provide an estimated finish time when you register and that estimated finish time will determine your wave number.
c) Bike Course was adjusted to eliminate the hard u-turn on Old 431. It will now look more like a lollipop. (course map can be found in comments)
d) Run course start is ever so slightly adjusted but is by and large the same as last year. (course map can be found in the comments).
3) Rocketman is pleased to announce our 2019 charity will be Village of Promise. They are a Huntsville based 501(c)3 trying to help impoverished families break free of poverty using a two generation outreach model.
4) Our sponsors have committed to returning. Fleet Feet Huntsville, Bicycle Cove/Bicycles Etc., Domino's of Madison County thank to Tony Osani, John Butterfield, We Run Race Photos LLC, Nesin Therapy Services, Cove Family and Sports Medicine.
5) But when will registration open up????
Monday March 25. We will be sending out emails to previous racers with discount codes next week!